for the Flying Doctor's newsletter
Sign Up
01865 748197
/
07906 218776
The Flying Doctor In Newbury serves
RG7 RG14 RG18 RG19 RG20 RG17
Newbury, Thatcham, Aldermaston, Hermitage, Leckampstead, Shefford, Hungerford, Kintbury, Highclere, Kingsclere
Tel: 01865 748197 • mob: 07906 218776 • newbury@theflyingdoctor.biz • www.theflyingdoctor.biz\newbury
©The Flying Doctor 2011 • the flying doctor, 12 Yeftly Drive, OXFORD, OX4 4XS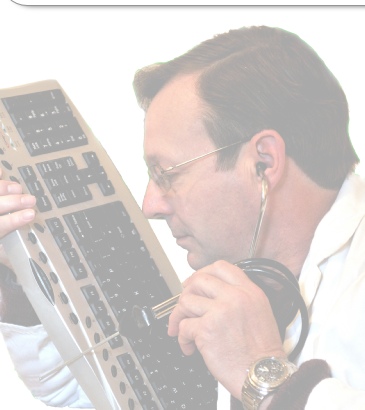 The Flying Doctor will look at your problem and solve it. Which isn't the same as repairing your computer. Because the Flying Doctor is a businessman just like you.
He always looks for the practical solution:
Outlook Express badly broken? Use something else.
Need your data? Pull the disc out and get the data onto another computer.
A terminal problem?
If it's cheaper to buy a new computer than repair what you've got then The Flying Doctor will tell you.
And remember The Flying Doctor guarantee:
No Fix - No Fee!
What about
The Flying Doctor?
The Flying Doctor was first cleared for take-off when he built his first computer in 1978 from a bag of bits and a soldering iron, so he's seen the whole development of personal computing - and has the scars to prove it.
If you are at home, work from home or run a micro business, then The Flying Doctor is for you.
The Flying Doctor always makes house calls- to get to know you, your computers and what your aims are.
As demand increases, we are expanding our business again and looking for franchise partners in new areas.
It's a great opportunity to use your enthusiasm for computers get on board a successful business with a great business model.
Cookie policy. We monitor usage anonymously to check website performance. This data is not used for advertising, marketing or personal information purposes.