Currently recruiting!
Tel: 01865 748197 • franchise@theflyingdoctor.biz
©The Flying Doctor 2019

SIGN UP for the Flying Doctor's newsletter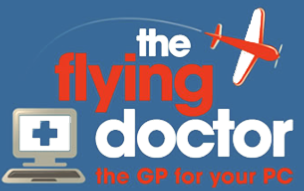 The flying doctor is expanding the fleet and flying to new destinations to help people suffering from computer panic.
Run your own business by being a pilot with
the flying doctor as a computer repair franchise partner .
Check out the opportunities available:
Ask about the flight plan for you:
Call 01865 748197 for a chat or contact us
What is a

computer repair franchise?
The benefit of a computer repair franchise is that you are buying into a developed business, to become part of a successful team.
95% of all computer repair franchisees are still in business after five years, while 50% of non-computer repair franchise businesses fail in their first year and 95% of them fail inside five. Because they are run by people with the technical skills but no business knowledge. The flying doctor computer repair franchise system gets you that business knowledge
There are two types of computer repair franchise system – the brand computer repair franchise and the process computer repair franchise. The brand computer repair franchise is predominately about getting the name – Subway, McDonalds – that brings in customers. A process computer repair franchise is about getting the right business support system to turn your technical skills into a money-machine.
The flying doctor is a process computer repair franchise system. We've spent a lot of time asking computer repair franchisees from all sorts of businesses about what is most important to them. They all say to us: 'support'. So that's what we focus on – working with you all the time to build your business to the next level.
We realise that your success leads to our success, so we are always there for you.
Ask about the flight plan for you:
Call 01865 748197 for a chat or contact us

click if that sounds good to you