Currently recruiting!
Tel: 01865 748197 • franchise@theflyingdoctor.biz
©The Flying Doctor 2019

SIGN UP for the Flying Doctor's newsletter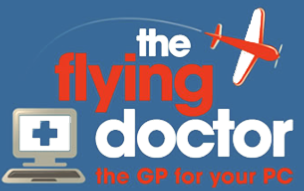 The flying doctor is expanding the fleet and flying to new destinations to help people suffering from computer panic.
Run your own business by being a pilot with
the flying doctor as a computer repair franchise partner .
Check out the opportunities available:
Ask about the flight plan for you:
Call 01865 748197 for a chat or contact us

Computer repair franchise -

What do I get?
A flying doctor computer repair franchise partner gets the benefits you need for a head-start for your successful business:
to get you running:
An exclusive territory to build your business;
a professional image through a uniform, processes and forms;
the right technical backup before you start;
shows you the marketing system to get customers so that you can start earning fast;
provides you with a ready made business system as a foundation for your business - so you can fix computers rather than design admin processes;
four days' training;
the marketing pack with leaflets delivered for you, local press coverage, business cards and
give-aways;
the launch pack with your operational and technical toolkits;
All the time:
computer repair franchisee team support days;
central marketing via the website, tweets, Blog and newsletters;
technical forum and knowledge base;
telephone and in-person mentoring and advice;
testimonials and feedback systems;
Group purchasing discounts;
being part of a team of entrepreneurs to support each other and profit together.
Ask about the flight plan for you:
Call 01865 748197 for a chat or contact us

click if that sounds good to you